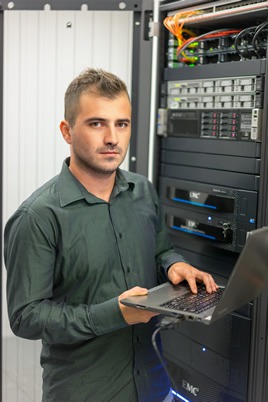 Department
Information Technologies
Profession:
Master of Science in Electrical Engineering
Mirza Manđuka
, System Administrator
System Administrator
Mirza Manđuka
joined the Bosnalijek team in February 2013. Right from the start of his employment at Bosnalijek, Mirza was recognised as a proactive and team oriented employee. He is responsible for the security of Bosnalijek's data centre and network system, which operates in accordance with the highest standards of functionality and reliability.
Mirza will tell you that working at Bosnalijek is filled with challenges.
"I am happy to have been given the opportunity to follow and apply the latest trends in IT development in the pharmaceutical industry. This is why I came to Bosnalijek."
Mirza has completed numerous trainings and he is constantly in search of new knowledge. His enthusiasm is contagious and he always has a smile. When you talk to him about work, you quickly understand that he is fully committed to his duties and always in search of new ideas and opportunities to improve his work.
"I love learning and exploring. I am always in search of new challenges and opportunities to improve what I do. I work with an excellent team and Bosnalijek invests in the development and practical application of new IT technologies on a daily basis. This is what I like the most here. This is why I work for Bosnalijek."
Mirza wishes to continue his professional development with this company as part of its large development team.
"Pharmacist, doctor, engineer, economist, technician, there is no difference here. Everyone is appreciated. We are all a single chain in which each link is equally important!"