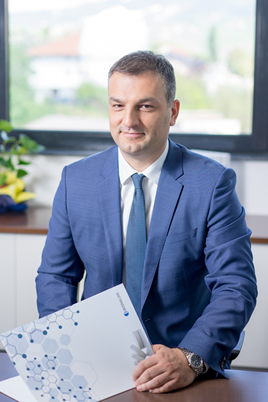 Nedim Uzunović,
Bachelor of Economics
Company Manager
Company Manager
Nedim completed the School of Business and Economics of the University of Sarajevo in 2001 and was the best student of the Balkan Project of the World University Service Austria. He began his career with Bosnalijek in 2002.

Young, ambitious and full of potential he trained at the Bled School of Management (IEDC) in Slovenia with a view to progressing to the most responsible managerial positions. There, he perfected his knowledge at the School for Young Managers and the General Management Programme of IEDC.

Nedim is fluent in English and Russian and he began his successful career with Bosnalijek in the International Marketing and Sales Department. He was responsible for research activities, the development of business plans, product placement in foreign markets and the development of new projects and markets. In 2005, after achieving exceptionally high results, he was promoted to the position of Manager for Bosnalijek operations in the Russian Federation, which is one of the company's most potent markets.

He held this demanding position in the Russian Federation up until early 2012, establishing and managing the Bosnalijek representative office. Over this seven year period, Nedim and his team achieved significant results. This market developed into Bosnalijek's largest export market and became the solid backbone for the future strategic development of the company.

The results he achieved in the Russian market brought him the title of Best Manager of a Pharmaceutical Company in Moscow in 2008.

The Supervisory Board of Bosnalijek appointed Nedim Uzunović as the acting Company Manager on 13 June 2013.