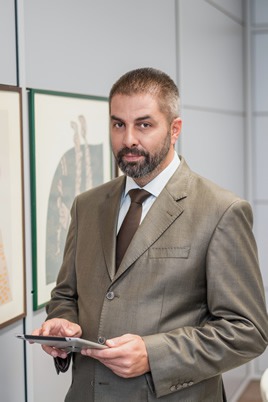 Department
Corporate Marketing
Profession:
Medical Doctor
Edhem Rustempašić
, Corporate Marketing Manager
Corporate Marketing Manager
Edhem Rustempašić
has been acquiring professional knowledge and skills within the domain of pharmaceutical marketing management in the largest regional and global generic pharmaceutical companies for more than a decade. He joined Bosnalijek in 2013. His motivation was the desire to contribute to the implementation of a new and more ambitions business vision at the largest Bosnian and Herzegovinian pharmaceutical companies through his experience and dedication to his work.
At Bosnalijek, we aspire to excellence in all of our activities. The Sector for Corporate Marketing constantly strives to develop and improve the highest standards for integrated marketing communications aimed at the end users of our products and services. These are the reasons why Dr Edhem Rustempašić decided to work for the largest pharmaceutical company in Bosnia and Herzegovina.
"High dynamics of the business environment imposes great challenges and requires different and better solutions on a daily basis. This is why I cannot remember having had two identical days in my career, which makes the work I do very exciting."
As Dr Rustempašić is aware, Bosnalijek introduced pharmaceutical marketing as a modern multidisciplinary field of business that combines medicine, pharmacy, economics, psychology and modern technology.
"Willingness for lifelong learning and continuous training combined with creative energy focused on results requires my best efforts for a goal in which I firmly believe. This is why I think of Bosnalijek as my second home."
You can hear in his conversations with younger colleagues the unique way in which he stimulates them, supports their creativity and encourages their work.
"Somebody said that 'no-one is given a dream without the power to make it true'. For every person courageously striving to turn words into actions, whose fears and excuses are not stronger than their dreams, Bosnalijek is a precious place in life where these dreams can come true."