"Global Enterofuryl® Speaker Training – GEST" conference gathers national and international experts and researchers
Bosnalijek d.d. pharmaceutical company hosted an international expert conference on rational pharmacotherapy for intestinal infectious disorders and acute diarrheas, on 19 and 20 April in Sarajevo.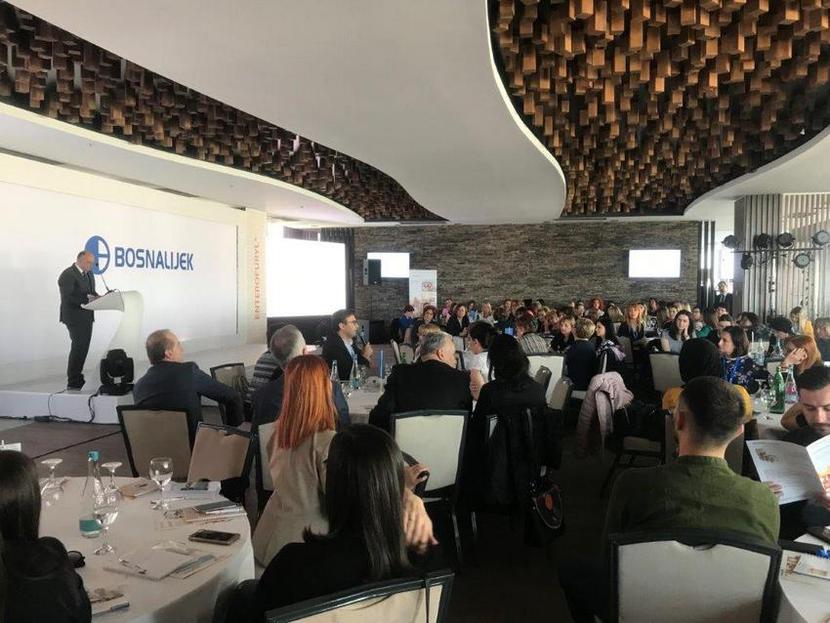 Global Enterofuryl® Speaker Training - GEST conference was attended by renowned national and international experts and researchers, along with over 140 medical doctors.
Aida Ferović, mr. ph., the manager of the South East Europe Region addressed the gathering on behalf of Bosnalijek.
The dynamic and interactive GEST conference offered the opportunity for medical experts to exchange information, knowledge and clinical experience in the application of nifuroxazide, the only local enteroseptic for the treatment of acute infectious diarrhea and discuss the enormous potential of this medicinal product and the way forward in scientific research. 
Prof. dr. Ervin Alibegović of the University Clinical Center Tuzla, the moderator and speaker at this gathering, spoke highly of the organization of the GEST conference and said that there should be more similar events gathering doctors who want to hear of global experiences and partake in and contribute to medical development in BiH. He added that nifuroxazide has been successfully used for a number of years. Some estimates are that over 50 million people have used the product over the past 10 years, and it has proven to have a sustainable and very high efficacy and safety in the treatment of intestinal infections, both in children and adults.    
The opening keynote speaker at the conference was doc. dr. Ratko Tomašević of the Clinical Hospital Center Zemun (Serbia). He spoke about the background of the development and application of nifuroxazide, its unique pharmacological profile of local antimicrobial activity, without disturbing normal intestinal flora, which makes it a highly safe medicinal product.   
The results of a large clinical study were also presented at the conference. The study confirmed that nifuroxazide results in significantly fast normalization of stool, reducing the loss of fluids and the degree of dehydration, which leads to a milder clinical picture and faster patient recovery. Compared to probiotics, the effects of nifuroxazide are twice as fast (within 48 hours), it is twice as efficient (fewer loose stools) and the recovery is twice as fast (less time until first formed, firm stool), with additional benefits of better relief of other symptoms and signs of acute diarrhea (abdominal pain and cramps, vomiting, fluid loss).  
A highly anticipated presentation was held by dr. Denis Usenko of the Institute for Human Infectious Pathology of the Central Research Institute of Epidemiology in Moscow and the director of the National Scientific Association for Infections.  
Dr. Usenko pointed to extensive clinical experience in Russia, where nifuroxazide is included in clinical guidelines of the Ministry of Health of the Russian Federation, as initial first-line treatment of infectious diarrheas of varying etiologies in children. He also reflected on numerous clinical studies and evidence to support that. In the end, dr. Usenko concluded that nifuroxazide is a proven and safe product for efficient treatment of bacterial and viral diarrhea.    
Prof. dr. Svetlana Turcan of the State Medicine and Pharmacy University of Moldavia, spoke about the role of nifuroxazide in gastroenterological practice. In addition to its application in the treatment of acute intestinal infections, nifuroxazide can also be used in the treatment of chronic diarrhea in patients with chronic gastrointestinal diseases.
Prof. dr. Turcan also spoke about the use of probiotics in the treatment of acute diarrhea and noted that caution should be exercised with the use of probiotics, given that they are dietary supplements, rather than medicinal products, and thus not subjected to strict quality control procedures.  
Prof. dr. Turcan referred to examples from USA, where many undesirable effects of probiotics were reported due to impurities caused by other, bad or pathogenic bacteria. On the other hand, the Agency for Medicinal Products and Medical Devices of Moldavia has not received a single report to date of adverse reactions to nifuroxazide.  
Prof. dr. Zoran Mavija of the University Clinical Center of the Republika Srpska spoke about the application of nifuroxazide in patients with the infection caused by Clostridium difficile. This infection mostly occurs in hospitalized patients, and one of the inciting factors is the change in gastrointestinal flora caused by antibiotics. C. difficile infections are a growing issue worldwide, due to the rise of new strains and growing fatality rates.
"Additional treatment with nifuroxazide in patients with this infection increases the efficacy of standard therapy, reduces the number of hospital days and improves the quality of life of patients", professor Mavija said.  
Prof. dr. Alibegović spoke about the possibilities for wider application of nifuroxazide and pointed to the need to expand considerably the indications for use of this medicinal product.  
The conference also adopted certain conclusions – nifuroxazide is the first line therapy in acute infectious diarrhea, it is safe and efficient in children and adults, and opportunities for its use in practice are much broader than its current areas of application, which calls for further clinical research.
GEST conference is one of the many projects of continued medical education for doctors, by which Bosnalijek seeks to contribute to and promote rational expert approach to treatment of some of the most prevalent health disorders and conditions.
April 25, 2019