Professional Lecture for Doctors and Patients Held On the Occasion of the World Multiple Sclerosis Day
Marking the World Multiple Sclerosis Day, on 30th May 2019, Bosnalijek organised professional lecture entitled "The Role of Neuropeptides in the Therapy of Multiple Sclerosis" at the conference room of Institute for Scientific and Research Work and Professional Development of the Clinical Centre of the University of Sarajevo (KCUS).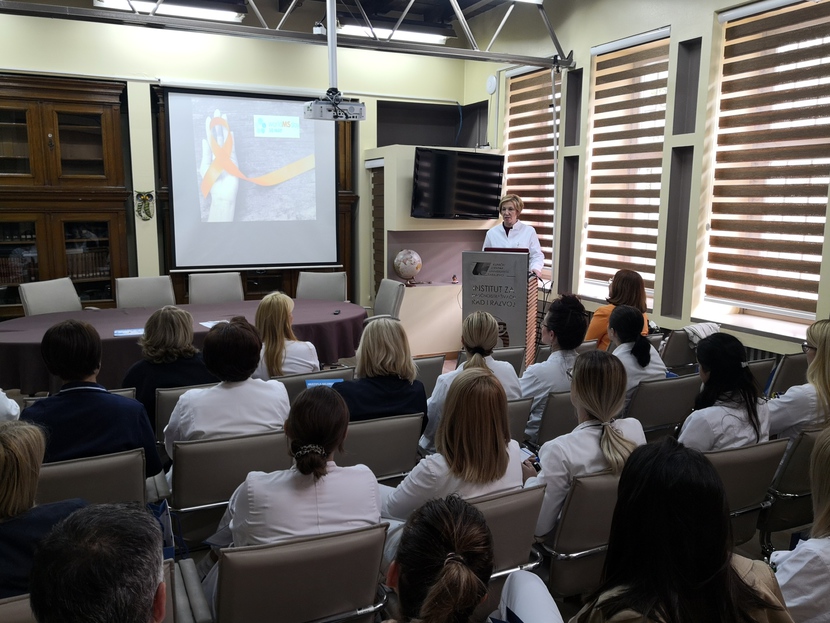 The lecture was attended by specialists and residents in neurology and neuropediatrics, psychologists, nurses as well as patients. This was the first time of speaking in public about the Bosnalijek's medicine for multiple sclerosis, its mechanism of action and benefits in therapy of multiple sclerosis.    
The lecturers were Prof. Enra Suljić, PhD, Director of Discipline for Science and Teaching at KCUS, and Meliha Mehić, MD, Clinical Pharmacologist and Corporate Medical Advisor at Bosnalijek.
Prof. Suljić, PhD talked about symptoms and consequences of the multiple sclerosis, its influence on the quality of life, treatment options, and widespread great stigma in the community.    
Prof. Suljić, PhD added: "We have to work on education of healthcare professionals in order to create adequate and efficient therapy for every patient", also emphasising that B&H patients are well educated about multiple sclerosis owing to an excellent work of several associations gathering persons with this disease.
Prof. Suljić, PhD presented results of clinical study conducted with a medicine from Bosnalijek's range of products which is intended for treatment of multiple sclerosis, and which demonstrated good tolerance, improvement in the tested parameters, including a decrease in debilitation of patients with multiple sclerosis, as well as an excellent safety profile that needs to be emphasized.     
Moreover, Prof. Suljić, PhD announced that multicentre, international, comparative study in duration of three and a half years is to be conducted. It will be carried out in research centres in Turkey, Russia, Bosnia and Herzegovina and Serbia, with the aim of proving superiority and efficacy of peptide combination over active comparator intended for the treatment of relapsing-remitting multiple sclerosis (RRMS).      
Addressing the gathering, and stressing that persons suffering from multiple sclerosis know best all the problems associated with this chronic disease, Ms. Mehić, MD also talked about pharmacology of active ingredients contained in this new medicine for multiple sclerosis. It consists of two neuropeptides and their mechanisms of action produces a specific effect on the immune system, and on the entire range of inflammatory events giving rise to occurrence of the multiple sclerosis. These active substances are characterised by absence of an entire range of undesirable effects marking other multiple sclerosis therapies. Ms. Mehić, MD also talked about the reasons for which the combination of these two neuropeptides is distinguished for its excellent tolerance.   
May 31, 2019