Bosnalijek Hosts its Traditional Luncheon for Retired Employees
Top Bosnian pharmaceutical company Bosnalijek organised its traditional annual luncheon for its retired former employees. Nedim Uzunović, Bosnalijek CEO, greeted around 200 former employees at this event, which provides a unique opportunity for them to see each other again and evoke old memories.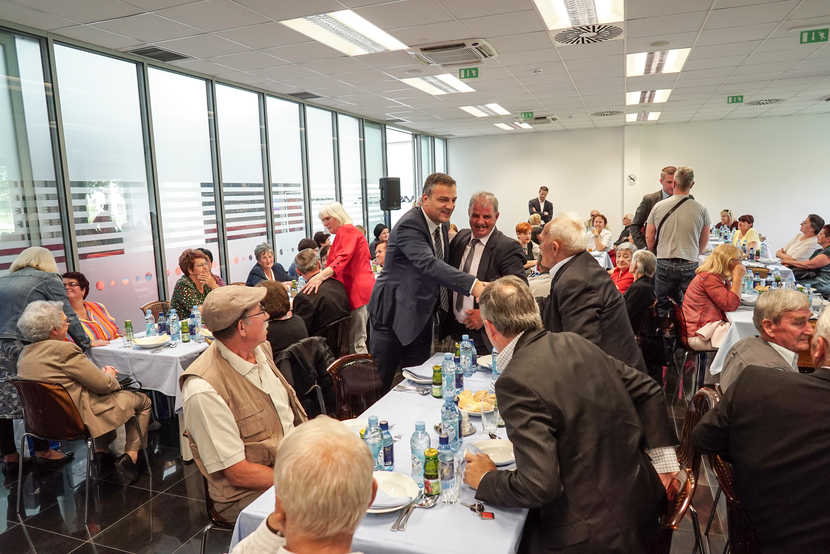 Mr Uzunović stated, as reported by the Patria news agency, "T
his year we celebrate 66 years of success and unity at Bosnalijek. Our business is successful despite numerous problems and market demands, which are particularly complex in BiH. We hope that we shall continue in the same manner, with your support. You are our best ambassadors
."
The CEO emphasised that Bosnia and Herzegovina faces an exodus of its young people and that it is the aim of Bosnalijek to create the type of conditions and environment that will encourage young intelligent people to stay in their country together with their parents.
Mr Uzunović said, "
Therefore, we shall continue to struggle and to work diligently to expand and develop our business so that young and clever people will not leave their homeland Bosnia and Herzegovina in search of a better livelihood in foreign countries."
As was emphasised, Bosnalijek products are now available in 18 world markets and on three continents: Europe, Asia and Africa.
The CEO stated, "
We opened new markets in the year 2016. Our products can now be found on the markets of Yemen, Libya, Somalia and Slovenia. Our products will also soon be present in the United Kingdom, Turkey, Iraq and Belarus."
Salkan Čomić, already retired for two and a half years, attended this gathering and was absolutely thrilled to see his colleagues again.
"I worked in this company for 41 years, my father also retired here. This is something special for me. I do not get the chance to see my colleagues very often and this is a good opportunity for us to talk to each other
."
Malkija Sijamić worked at Bosnalijek for 22 years and retired seven years ago. Malkija said, "
This is a chance for all of us to meet; this traditional gathering has been used since I retired
."
Pupils welcome the pensioners
This year pupils from the medical secondary school greeted the retirees and presented them with gifts. As the pupils told us, this was an opportunity for them to give something back to Bosnalijek in gratitude for the company making it possible for them to take part in the activity 'Excursions for All'.
Sanih Ajdinović, a pupil of the third grade, said, "
Given that Bosnalijek helped us during the event to raise funds for excursions with a donation amounting to 5,000 BAM, we tried to make requital in this manner. This is a pleasant experience for us and we overflow with satisfaction at seeing these people smiling and are glad to be a part of this story
."
May 24, 2017