Bosnalijek is again the best employer in the pharmaceutical sector in 2019
Bosnalijek was again declared the most favourable employer in the pharmaceutical sector in 2019, at the official ceremony held on Friday, 26 April, at Home of Armed Forces BiH.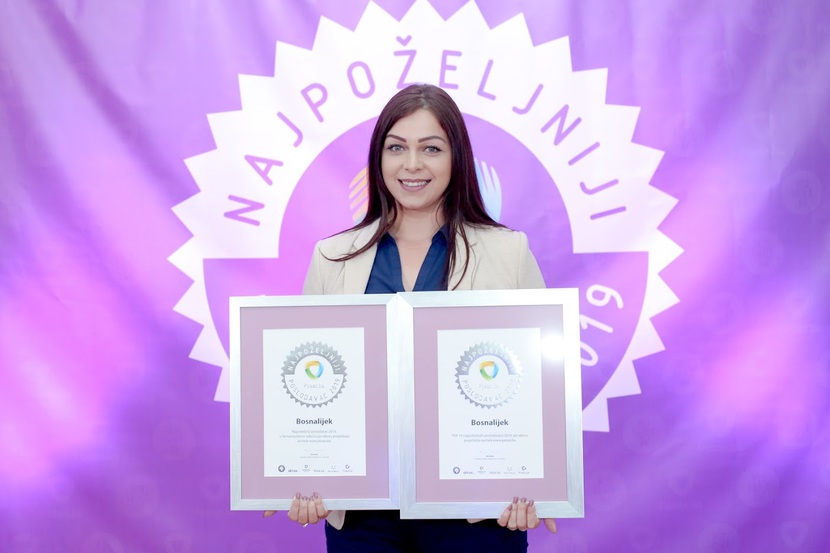 The best employer award in BiH is given by the Kolektiv – Posao.ba Company, which has been organising an extensive survey for the past thirteen years. During the survey, members of the public can go to Posao.ba web portal and vote for employers which, in their opinion, deserve the title of the best.
During a three-month public perception survey of the most favourable employers in BiH, record 250,000 single votes were cast for the total of 350 nominated companies.
Anela Aganović, from the Human Resources Department, accepted the best employer in the pharmaceutical sector award on behalf of Bosnalijek which also won the sixth place among the TOP 10 employers 2019.
Ms. Aganović expressed her satisfaction that Bosnalijek was among the most favourable employers in Bosnia and Herzegovina, and the leading pharmaceutical employer, which is the best acknowledgment of Company's success.
Apart from Bosnalijek, the following companies were among the top ten most favourable employers in BiH for 2019: DM drogerie markt, HIFA Petrol, BH Telecom, UniCredit Bank, Coca – Cola HBC BH, Violeta, Elektroprivreda BiH, Al Jazeera Balkans and NLB Banka.
Respondents across BiH took part in the survey. Around 41% of respondents were young people in the age group 25 to 34. Respondents were mainly persons holding a university degree and the unemployed.
The employer characteristics most favoured by respondents in the survey were their fair treatment of employees and positive working environment. The most important reasons why people voted for the best employers were high quality of products and services, and job security.
The Best Employer Award contributes to the strengthening of Company's activities and values of its brand among members of the public and their future employees, reassuring the present employees that they work at the most desirable place in the BiH labour market, which contributes to their general satisfaction, increased productivity and motivation at work. 
May 6, 2019