Bosnalijek's Family Day
The eighth Family Day, an already traditional day for Bosnalijek's employees and their families, took place on Saturday 17 October 2015. Many of our employees attended the Family Day celebration with their families and the company hosted many happy guests.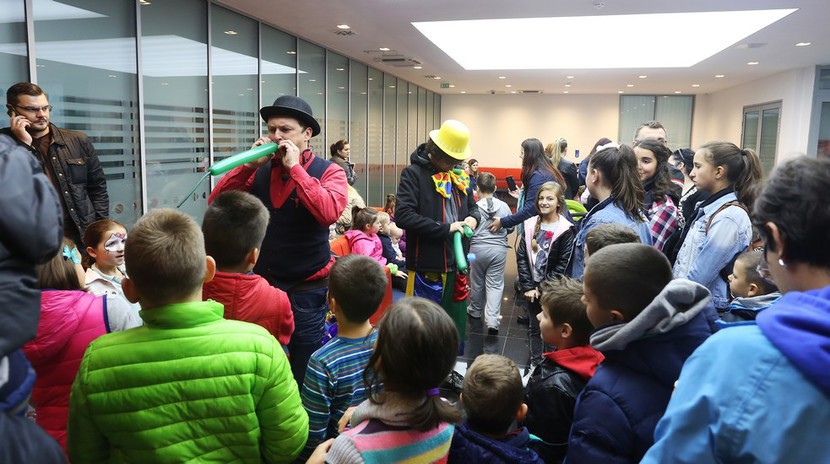 Not even the slight rain, usual for this time of the year, could dampen the celebration.
The youngest of our guests had the most fun and enjoyed playing in the inflatable castle and creative corner where they drew their favourite characters. Drawing on the pavement was especially fun. Laughter could be heard from the train rides and games at the park. Older children played basketball and table tennis, danced with a ball and took part in a sweet competition: cream pie eating with no forks.
The adults took care of the barbecue, while those who loved sports played table tennis and basketball with the children.
"We all enjoyed watching the children's joy while having fun and laughing with our friends and colleagues children. It was fun to see those painted happy faces. I love our family celebrations", said Hana Skender.

"I always have fun with karaoke and dancing with the children. It is wonderful to be a part of the Bosnalijek family", said Naida Begović.

"My son is fascinated every time a magician comes on stage. It is nice being all together and enjoying this big Family Day", said Mirza Musić.

"We want our employees to be happy and proud of the company they work for. There is no greater joy than introducing your family to your colleagues and the working environment and this is a perfect place and opportunity to do so", stated Nedim Uzunović, Manager of Bosnalijek, for the in-house publication Aktuelnosti (The News).


Healthy families are the key to a healthy society and collective work. Bosnalijek will therefore continue to organise the Family Day as an event dedicated to fostering healthy collective values.

October 22, 2015