Bosnalijek signs cooperation agreement with Mylan, a global healthcare company
Sarajevo, 27 May 2019 - Bosnalijek announced the beginning of cooperation with Mylan, one of the largest global healthcare companies operating in 165 countries and territories, with a portfolio that contains more than 7,500 products (including biosimilars) and annual revenue of around USD 11.4 billion reported in 2018.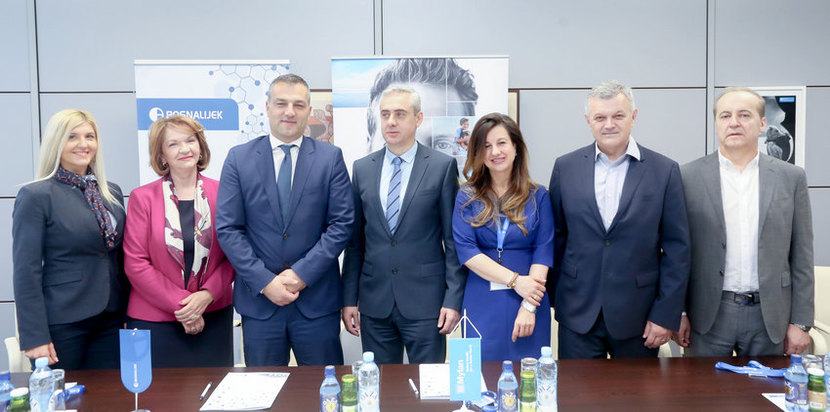 This partnership is an integral part of Bosnalijek's growth strategy. It represents a significant step forward for Bosnalijek and an opportunity to work on joint projects with Mylan that will benefit our patients.
As a first step Bosnalijek and Mylan agreed on cooperation and joint marketing for seven pharmaceutical products, with a tendency to expand it into a strategic partnership in different areas, primarily those that will enable access to new molecules, therapeutic areas and a better market position in line with the latest pharmacotherapy trends.
"I am proud to announce cooperation with Mylan. It is a strong signal and testimony to Bosnalijek's excellence and results of our work. With Mylan we share two core business values - we are focused on making high quality drugs that we want to make available to all patients and in everything we do, we both strive for excellence and setting highest standards.", said Nedim Uzunovic, CEO of Bosnalijek, who also added  "The future in pharmaceutical industry belongs to oncology and immuno-oncology therapies, as well as biological and biosimilar drugs. The companies that master this portfolio will ensure a strong competitive advantage. Therefore, through this cooperation, we focused on medicines that will help us strengthen our position in new therapeutic areas like type one diabetes, asthma, haematology, oncology and cardiology".
Zeljko Ravlic, Country Manager of Mylan affiliates in Croatia, Bosnia and Herzegovina, Albania and Kosovo added: "Thanks to this partnership, Mylan will be able to provide a broader access to high quality affordable medicine to Bosnian population. This partnership opens further opportunities for portfolio expansion."
Bosnalijek is an international company with successful operations in three continents, recognized in the region as the leader in pharmaceutical industry. Partnership with a company of Mylan's size and calibre is a part of Bosnalijek's development strategy and vision, which is focused on developing therapy areas they work in, growing its products and services portfolio and expanding to new markets in the world. Bosnalijek's growth and expansion as well as job creation is a significant contribution to the local economy of Bosnia and Herzegovina.
May 29, 2019