Bosnalijek Wins Prestigious Award: Lysobact No. 1 in Sore Throat Remedies Category as Bestseller in Russia
On 19 September in Moscow, Bosnalijek was presented with the prestigious Consumer Health Choice Award for 2017 after Lysobact, a product with a long tradition, won first place as bestseller in Russia in the sore throat remedies category.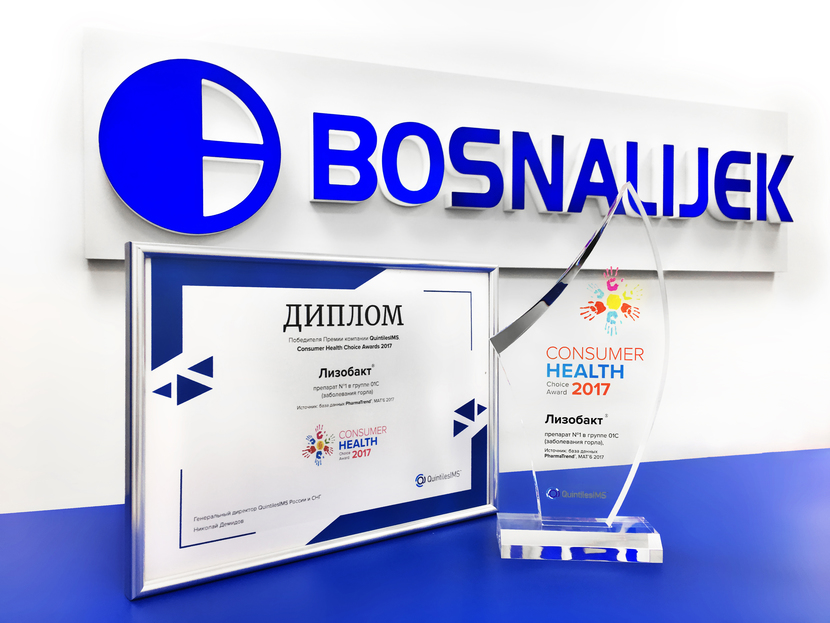 Valentina Buchneva, Director of Bosnalijek's Representative Office in the Russian Federation, said after receiving the prize,
"We are truly happy for winning this prestigious award."
Ms Buchneva added that Lysobact was registered for the first time in the former USSR in 1982. It became popular because of its unique advantages of natural safety and broad spectrum of antiseptic activity.   
The Director of Bosnalijek's Representative Office, Ms Buchneva, emphasised,
"Among other sore throat remedies on the Russian market, Lysobact is a unique product of its kind containing lysozyme and without chemical antiseptics. This makes Lysobact an optimum choice not only for adults but also for vulnerable categories such as children and pregnant and lactating women." 
Lysobact is a unique product that contains natural antiseptic lysozyme, which does not add foreign substances to the body. Owing to its spectrum of antiseptic activity, Lysobact eliminates the causative agents of a sore throat: viruses, bacteria and fungi.
Over 500 representatives of leading pharmaceutical companies gathered at the prestigious Consumer Health Choice Awards 2017 ceremony. 
Receiving this prestigious award represents yet another significant accomplishment of Bosnalijek in 2017. In March 2017, the Ministry of Industry and Trade of the Russian Federation awarded Bosnalijek its GMP Certificate and thus made it one of the first companies, whose manufacturing site is in Europe, to pass Russian GMP inspection. 
Sponsored by QuintilesIMS, an American multinational company serving the combined industries of health information technologies and clinical research, the Consumer Health Choice award is direct evidence of Bosnalijek's success on the Russian pharmaceutical market. 
QuintilesIMS presented an objective picture of the marketing strategy and effectiveness of communication as well as the operations of the pharmaceutical company in general by estimating sales results through a wide sample of retail chains for a period of twelve months.  
September 20, 2017