Postgraduate Students from the American University Yale visit Bosnalijek
As a part of their student trip, MBA students from Yale University paid a visit to Bosnalijek JSC on 14 March 2018. This is the second year in a row that such a visit to Bosnia and Herzegovina and the surrounding region has been organised. After Sarajevo, the postgraduate students will visit Belgrade and Zagreb.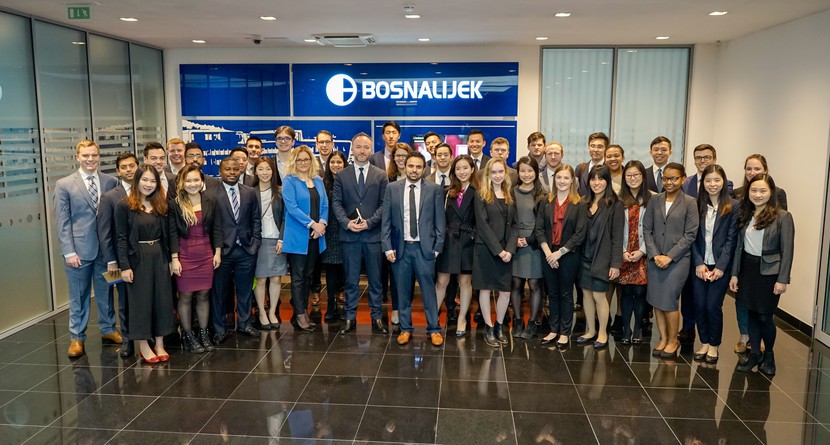 Ivana Katić, Assistant Professor of Organisational Behaviour at Yale University, thanked Bosnalijek for its hospitality. 
Ivana Katić emphasised, "
Our goal is to visit successful companies and certain state and international institutions. We visited Bosnalijek in the last year and since the postgraduate students were very much satisfied with the programme and hospitality offered by this company, having an opportunity to visit this successful company for the second time makes us very happy. As anticipated, this visit was truly excellent and this is why we announced our visit in year 2019 as well
." 
During the corporate presentation, the MBA students asked numerous questions. They were particularly interested in the company, its work method and its business operations as well as the manner in which new therapies are developed and introduced and the means of launching products in the markets. Accordingly, we discussed our development plans and the sale of Bosnalijek products both worldwide and in Bosnia and Herzegovina.   
Ekrem Turajlić, Director of the Corporate Sales Department, stated, "
It is our great honour and pleasure to receive the delegation and MBA students from the prestigious American University Yale for the second subsequent year. We are proud that our prominent guests have chosen Bosnalijek, as one of the most successful BiH companies, for their visit and discussion with our experts.
"
Mr Turajlić stated that Bosnalijek cooperates with many academic institutions in BiH and abroad. He stressed that Bosnalijek's doors are always open to visitors and practitioners and that the company has a long tradition of enabling the preparation of diploma papers and master's and post-graduate thesis and that this tradition will continue to be upheld and cherished in the future.   
Mr Turajlić added, ''
Given that postgraduate students from the prestigious Yale University are coming back to Bosnalijek, we are glad that this visit is growing into a nice tradition
." 
The MBA students said that the lecture was very useful and that they were pleasantly surprised by the fact that Bosnalijek has 67 per cent female employees, which is not so common in the United States of America.
March 14, 2018